Tom and Linda Gilmer : September-October 2023 Prayer Letter
Dr. Thomas and Mrs. Linda Gilmer – Church Planter, Bible Translation in São Paulo, Brazil
September-October 2023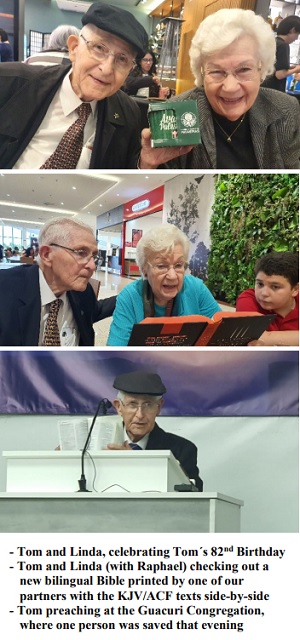 Dear Friends of Zion:
We thank you for your prayers and faithful support for our ministry. On August 30th we celebrated fifty-seven years since we first arrived in Brazil on Tom´s twenty-fifth birthday with our two month-old daughter, Evangeline Ruth. Little did we imagine all the Lord had in store for us in Brazil.

Linda already knew Spanish, so Portuguese came easy for her, and Tom was inspired by the fact that even the neighbors' dog could understand Portuguese. His greatest desire was to communicate as quickly as possible, and that he did. Right from the start we got involved in all the main areas of ministry that we are still involved in: Jewish Ministry, Church Planting, Bible Publication, Businessmen´s and Leaders Outreach, Radio, and Bible Institute.

The Lord gave us three more children in Brazil: Rachel Joy, Thomas Jr., and Harold Ralph. All three grew up to marry Brazilians. Ruth was the only one who married an American, but even there, her mother-in-law was French. Tom´s prayer for the children was always: May they know You, love You, and serve You. By God´s grace, our children are still serving the Lord. Our prayer now is for our thirteen living grandchildren and nine greatgrandchildren.

Our son Harold Ralph once said to Tom: "Dad, you are my hero for having gone to Brazil cold-turkey with a two-month old." Tom simply replied: "I was being obedient to the Lord, and if He had sent me to China, I would have gone the same way."

Praise God from Whom All Blessings Flow! May He richly bless!
Yours for the Messiah,
Tom and Linda Gilmer
PRAISE:
Professions of faith: 19.
Fifty-seven years of fruitful ministry—to God be the glory!
See Harold Ralph's prayer letter for report on Bible Reprinting Fund
PRAYER:
Salvation decisions: Jews and Gentiles.
Electronic media, preparation and publication of Bibles and study helps.
URGENT NEED: Offerings for Bible Reprinting Fund.
Wisdom mentoring multiple local Pastors and Missionaries.