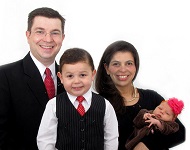 Harold Gilmer: December 2014 Prayer Letter
Dear Brethren,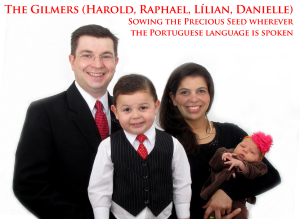 On November 5th the Lord graciously added to our little family Danielle Rocha Gilmer, weighing 6,94 lbs. and measuring 18,5 in. She is a cutie! Praise the Lord Lílian is recovering well from her C-section and Dannielle is gaining weight and growing nicely.
The year of 2014 was as a repeat of 2011, having had the opportunity of overseeing both the Sociedade Bíblica Trinitariana do Brasil (Trinitarian Bible Society of Brazil) as the Executive Secretary and Igreja Batista Nova Vida (New Life Baptist Church) in the absence of Pr. Sean Lunday. We praise the Lord for the wonderful co-laborers He has given us in both of these ministries, which help carry out the work.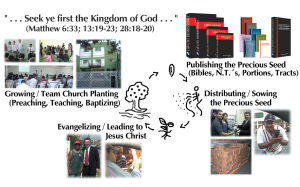 Our ministry revolves around the Precious Seed, as seen in this illustration. It is all about (1) Publishing the Precious Seed, (2) Distributing/Sowing the Precious Seed, (3) Evangelizing/Leading people to Christ and (4) Growing the Precious Seed through Team Church Planting. By God´s grace, we are sowing the Precious Seed wherever the Portuguese language is spoken. Thank you for your prayers!
Your servants in Brazil,
Harold, Lílian, Raphael and Danielle