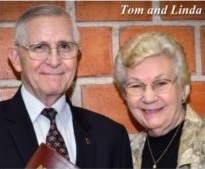 Tom Gilmer: December 2015 Prayer Letter
Dear Friends of Zion:
Thank you for making so much possible, laboring with us in prayers and offerings. We trust you are having a Happy Hanukkah (the Jewish Feast of Lights or Dedication, beginning at sunset December 6 until sunset December 14), celebrating the cleansing and rededication of the Temple, a festivity in which Jesus participated according to John 10:22-23. We trust you will also have a Merry Christmas and Happy New Year. May we all take advantage of the long shopping lines to at least give a smile, a Gospel tract, and a "Merry Christmas!" to those around us.
New doors opened for us to promote our Jewish and Bible ministries. The last of October and first of November found Linda and me in a Prayer Conference in a neighboring state, where I was the main speaker for five evenings. We both spoke in a meeting divided between men and women on Sunday morning. Linda also spoke to the young ladies in a segmented moment of an all-day meeting of several churches with which we cooperate, held in a large conference facility in a city adjacent to São Paulo.
The last Sunday of November of this year was a glorious day for us at our first church, in contrast to the last Sunday of November 1999. At a men's meeting recently, the inexperienced, first time speaker used a very inappropriate illustration. Pastor Marcos was marvelous in his restraint, courageous in tactfully correcting the error in his next sermon, and wise in talking to the offender, who quickly recognized his mistake and apologized. Sixteen years ago it looked as though this church could not be recuperated from the errors introduced by the former pastor in the few months we were on furlough. The process has been slow and arduous. Even my health was severely affected for several years, leaving me so emaciated and steadily weakening that it seemed I would die, but thank God, victory is here! We face the next sixteen or so years with a stronger base than ever to reach out further than ever to reach lost souls. To God be the glory!!!
The opportunities before us are so great we are seriously considering delaying our next furlough another year or two unless we come to a point to feel we can do more for the work in Brazil by visiting churches in the USA and generating more prayer and financial support. Our promise to go to any supporting church by faith, anytime we are needed, remains open. May you be richly blessed throughout this joyful season.
Yours for the Messiah,
Tom and Linda Gilmer
PRAISE:
1.Professions of faith: 2
2.Teams and plans for Guacuri church continue to develop well.
3.New candidates for the ministry.
4.New opportunities to promote our Jewish and Bible ministries.
PRAYER:
1.Salvation of Jews and Gentiles.
2.Bible study helps.
3.New churches, growth of existing ones.
4.APPs, CD, MP3, and AUDIO BIBLE problems, opportunities, slow progress.
5.Warehouse for Bibles.