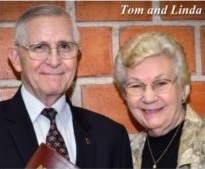 Tom Gilmer: October 2016 Prayer Letter
Dear Friends of Zion:
Another blessed month, thanks to GOD–and to you, for praying and giving! When Linda shared with me the results of her speaking at the ladies' meeting at our first church in September, I asked her to write it down to share in our prayer letter as a tribute to a faithful prayer warrior.
TRIBUTE TO ELISABETH FERREIRA ROCHA
"It's springtime in Brazil (though it feels like winter right now!). The theme of the ladies' annual Spring Tea at Templo Batista de Indianópolis was 'Overcoming Obstacles: Are You Prepared?' The young woman scheduled to speak was hospitalized unexpectedly, and at the last minute I was asked to substitute. The Lord put on my heart II Samuel 22:33-34, Psalm 18:32-33, and Habakkuk 3:19: 'The Lord God is my strength, and he will make my feet like hinds' feet . . .to walk upon mine high places.' After I spoke, Erica, the moderator of the program, asked if anyone would like to give a testimony. Neide (rhymes with 'lady') walked forward and said, 'I was scheduled to give a testimony today, but I have had a terrible week. My son, who has an incurable genetic disease, has been in the hospital all week, as well as Dona Elisabeth, the elderly lady I care for. I felt I could not speak. But after hearing Dona Linda, now I can.' Then Samantha spoke, in tears. 'I will be entering the hospital on Monday, preparing for a bone marrow transplant. I want to be the best patient possible and brighten the corner for all the caretakers and anyone I meet during this time!' A fourteen-year-old girl, Heloise, who professed Christ as Savior not long ago, spontaneously rushed to the podium and said: 'I love the Lord so much! I 'm so glad I can participate in the young peoples' meetings! This is my first time to give my testimony!' The joy of God's presence shone on faces all around the room as the ladies applauded."
Dona Elisabeth, the elderly lady that Neide mentioned, began praying in 1994 with a group of other Brazilian women for a fundamental, separatist Baptist Church in Indianópolis, their section of São Paulo. That was the year we were accepted as missionaries to Brazil. Some of you reading this letter began praying, even as children, for us at that time as we were preparing to come to Brazil. For four years the ladies met weekly. Unaware, we rented a store front for our first auditorium just around the corner from the house where those women prayed! A week ago the Lord called 98-year-old Dona Elisabeth to Heaven. In death, the Lord answered another of her prayers. Ten members of her estranged family, who live far from the church and refuse to go to any church, came to her funeral. One of them accepted Christ at the cemetery. Praise the LORD!!! Of the original group of praying ladies, two are still living. May God bless you for your prayers, too!
Yours for the Messiah,
Tom and Linda Gilmer
PRAISE:
Professions of faith: (7)
Bible study helps, churches, APPs, warehouse, etc.: Persistent, patient work being done, with slow progress.
PRAYER:
Salvation of Jews and Gentiles.
Bible study helps.
Churches: planting and expanding.
APPs, CD, MP3, AUDIO BIBLE.
Warehouse for Bibles.
Special offerings for church planting, especially request in last prayer letter from Harold Ralph.