Rom Ribeiro: February 2016 Special Prayer Letter
Dear Pastor and Brethren:
"Study to shew thyself approved unto God, a workman that needeth not to be ashamed, rightly dividing the word of truth." (II Timothy 2:15)
There is no doubt the Lord sent us to the right place to influence other pastors about Missions and church planting. Our seven-month-old church is averaging 45 people per service, and growing. After finishing the newcomers eight-week discipleship classes, our people are encouraged to go through one-on-one discipleship for their spiritual growth and to acquire church membership.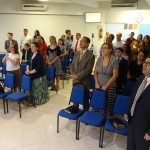 Our greatest challenge now is to raise about $150,000 to build an educational building that can be used for Sunday school and services until we are able to build the sanctuary. A year ago such a construction would have cost about $222,000 because of the low dollar rate. The Brazilian economy is in turmoil, but as soon as the government is able to raise taxes (again), the dollar rate will come back down while inflation will remain high. It would be wonderful if we could take advantage of this moment to build.
Would you prayerfully consider participating in this project? Our church in Ribeirão Preto is a need—not only for the city, but for this entire region, as we strive to continue the legacy that BIMI Missionary Jimmy Rose left after 40 years of service in this country. We do need a building and a permanent address to be more effective. Your offerings towards this will be most appreciated.
The Lord used us along with other pastors in the Southeast to reopen Ebenezer Baptist Institute. Rom graduated from this institute before going to Bible college in the States. Under the leadership of Rom's pastor, Missionary Jimmy Rose, Ebenezer Baptist Institute produced dozens of preachers and missionaries that serve God to this day all over Brazil. Forty-six students have enrolled for this first semester. Praise the Lord!
In His Perfect Love,
Rom, Rachel, Rochelle & Roxanne Ribeiro
rwribeiro@aol.com