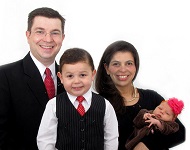 Harold Gilmer: March 2016 Prayer Letter
Dear Brethren,
The past few months were non-stop for our little family. Words cannot express how much your prayers mean to our
ministry and to our family. Thank you for holding us up in prayer.
Mount Abarim Baptist Mission International 50th Anniversary
The Lord gave us the wonderful opportunity of attending our Mission´s 50th annual conference this past January, held
at our home Church, Worth Baptist Church, thanks to a special offering received last fall. The great preaching and
wonderful fellowship charged our batteries. It was a very brief trip, but we had the opportunity of visiting our family
who had not yet met Danielle, visiting my Alma Matter, Pensacola Christian College, and visiting the Church where I
interned, Heritage Baptist Church of Pensacola. The Lord knows how to renew us, day by day.
Bible Ministry
In February, Harold had the opportunity of attending the inaugural service of the Trinitarian Bible Society´s new
facilities, in London. It was a great encouragement to learn about the many Bible translations and revisions that are
underway, in particular the Iranian Farsi project, for which one of the revisers was imprisoned. May we never take our
freedom for granted and waste the opportunity to sow the Precious Seed, while it is day.
Praise the Lord we received special offerings for our Scripture distribution fund. A very special thank you for those
who gave toward this need. It is such a joy to sow the Word of God, for we have the most precious promise that His
Word will not return void (Isaiah 55:11).
New Life Baptist and Guacuri
Some have inquired if New Life Baptist Church is planning to move to the property we mentioned in our letter, in the
Guacuri neighborhood. The answer is no. New Life Baptist is planning to build an auditorium, but in the same location
where it is today. The property at Guacuri is for a new church.
We will start the Church at Guacuri in the same manner as New Life Baptist, in a team effort, under much of the same
leadership. The Lord willing, we will begin services this fall in a rented building, while securing the building permits
and laying the foundation. We will most certainly keep you updated on the needs. Thank you for praying towards the
start of this new church.
Carlos and Neusa´s baby with the Lord Jesus
On February 19th, Carlos and Neusa gave birth to Josué, born with severe deformities. Only four hours after arrival,
the Lord called Josué into glory. Please remember this precious couple in your prayers.
Your servants in Brazil,
Harold, Lílian, Raphael and Danielle