Harold and Lílian Gilmer : August 2021 Prayer Letter
Harold and Lilian Gilmer – South America Director, Church Planter and Bible Translation in São Paulo, Brazil.

Dear Brethren:
"Then Samuel took a stone, and set it between Mizpeh and Shen, and called the name of it Ebenezer, saying, Hitherto hath the LORD helped us" (1 Samuel 7:12).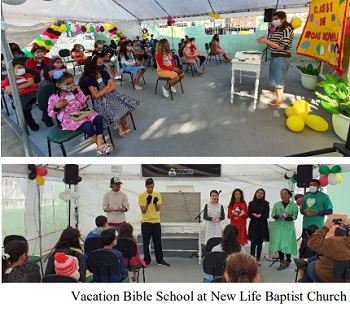 Church Planting – Rejoice with us
We just wrapped up our VBS at New Life Baptist Church. By God's grace, we saw nine children come to trust the Lord as their personal Savior, and we had one adult saved as well, praise the Lord. We praise the Lord for the lives of Uarlisson and Grazi who worked so hard to make this happen. The Church came together as one to help in any way they could. Rejoice with us, for God gave the increase!

Bible Ministry – next step: Exhaustive Concordance w/ Dictionary
Years ago, my father produced the first Exhaustive Concordance in the Portuguese language. It was a great blessing, but it lacked the Strong´s numbering system with a Hebrew and Greek dictionary. There is a huge request for the Exhaustive Concordance in Portuguese with a dictionary at this time.

We are at a crucial moment in seeing this project become a reality, and we need your help to conclude this project. First, we need prayer! The Lord has brought us this far, but we need prayer to take us the rest of the way. Second, we need special offerings to cover the expenses of updating the Concordance with the latest orthographic changes, proofreading of the dictionary, coordinating the Strong´s numbering system to the Portuguese Bible, and typesetting. If you would like to help in this project, please simply specify your gift as "Concordance" and we will get it into the proper fund. Thank you your help in giving to the Portuguese language the single most important tool they need in studying the Scriptures.

Update on Support Level
Praise the Lord, one more Church just announced they have taken us on for support. A very special Thank
You to Greater Portland Baptist and to Pastor Rick Adams. We also need to give a very special Thank You
to our sending church, Worth Baptist and to our Pastor, Tyler Gillit, for extending their additional support
during this time. Please do continue to pray with us for our support. The Lord provides!

Yours fellow servants in Brazil,
Harold, Lílian, Raphael and Danielle