Rom Ribieros: May 2020 Prayer Letter
MAY 2020 SPECIAL PRAYER LETTER
Dear Pastor and Brethren:
"Be still, and know that I am God: I will be exalted among the heathen, I will be exalted in the earth." (Ps. 46:10)
We have been in quarantine for the last two months, obeying the regulations imposed on all of us by the government. Our churches are closed, and there is no hope of reopening them for services until the end of June. For now, we are holding our services Online, and keeping in touch with each of our people. We are also teaching classes Online, and preaching daily on BBN International.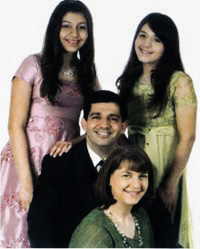 After seeking the Lord in prayer, we have decided to postpone our furlough to next year. We need to stay in Brazil to help our churches get back to normal once this long quarantine is over, and to assist our people as they try to get back on their feet. Several people have lost their jobs or have had their hours and pay drastically reduced. It seems we will have a long economic recession, and there are an increasing number of people getting sick with the coronavirus. We are praying that our individual liberty will come back to normal soon, and that our people will have a strong desire to come back to the house of the Lord.
Before the quarantine, our church in Ribeirão Preto was growing steadily. We had begun a new discipleship class with 16 students. We just finished these classes Online, and we are sending the certificates by mail. We pray that these new converts will come to church once we have permission to meet again. Face masks, sanitizer, and social distancing will be routine from now on.
In the midst of this pandemic, we received the good news that an institution in the States is willing to donate $40,000 (as long as we are able to raise another $15,000) towards the $60,000 we need to acquire a piece of land for the sixth church of our ministry. While we are still in this world, the Lord has given us a special commandment with or without coronavirus: "… Go ye into all the world, and preach the gospel to every creature" (Mark 16:15). We are trying to do exactly that.
In His Perfect Love,
Rom, Rachel, Rochelle and Roxanne Ribeiro