Marlon and Kareen Jumawan: March 2021 Prayer Letter
Marlon and Kareen Jumawan – Missionary and Church Planter in Philippines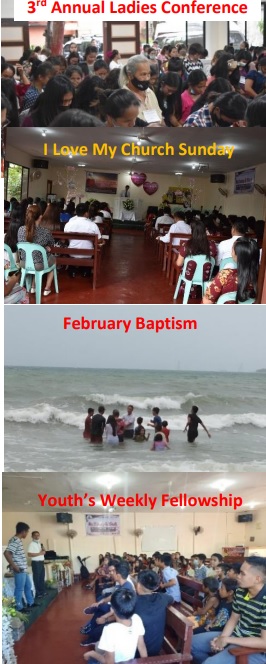 Dear Pastors and Praying Friends,
It's hard to believe what we've been through for a year now in this pandemic, and I can say that things are not back to normal yet here in the Philippines. For sure, this pandemic has changed our ways. But I am glad that our God is the same yesterday, today and forever. Our hope is not based in circumstances.
We are now on the third month of this year, and there are many things needed to be done. The ministry here is facing challenges that were not expected as I am sure all of us are. However, God is always good!
January 30th was our 3rd Annual Ladies Conference. It was the biggest output ever, having 70 first time visitors. It was a victorious one because some of them are now regularly attending our church services.
Since modular phases are the way of the schools now, monthly kids' activity exclusively for the church kids has been created to break their boredom. They have puppet shows, individual challenges, Bible stories and of course healthy foods for three hours the last Friday of each month.
In addition, we also launched the monthly youth challenge, which involves activities such as cooking, painting, and more. For our S.W.A.T (Soul Winning Action Team), we intensified it through adding more schedules that fit the availability of the male church members.
On February 14th, our I love My Church Sunday was a great success focusing on building our permanent auditorium.
The church was also thrilled in ordaining our first two deacons. This is such a big help for me since the church is growing. We are also having our 1st Annual Workers and Volunteers' Conference this March 24 and our first Annual Easter Cantata this April.
Results for our SWAT: January (56 salvations); February (155 salvations, 9 baptisms)
We feel so blessed knowing that there are churches with our Pastor friends supporting us not just financially, but mostly in prayers. We are so thankful to God for showing us His amazing grace.
May God continue to bless us all. In Christ,
Marlon Jumawan
Matthew 5:16